Air Travelers Have Wide Range of Views on Compensation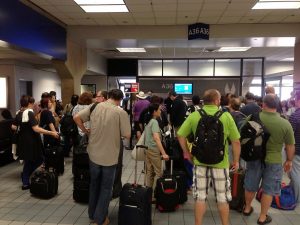 With oversold flights now a common phenomenon, it's no surprise that air travelers have widely divergent views on what might constitute fair compensation when asked to give up their seat and to take a later flight, according respondents to a survey conducted by The GO Group LLC, an international ground transportation provider.
"Perhaps the most surprising result of the survey," said John McCarthy, president of The GO Group,"was that only 22.6% of business travelers and 15.5% of leisure travelers were unwilling to give up their seats no matter how substantial the compensation. Given the complications of air travel today, we really expected more people to say 'Thanks, but no thanks' if asked to give up their seats."
On the other hand, it was not surprising to find that leisure travelers were far more willing than business travelers to accept $750 or less in compensation, with 42.25% saying that amount would be adequate. Only 27.7% of business travelers felt the same way.
At the other end of the spectrum, 14.5% of business travelers wanted at least $2,000 in compensation, while just 6.8% of leisure travelers felt entitled to that amount.
More than 350 passengers took the survey.
Many of the respondents noted that the level of compensation should be adjusted to reflect the degree of inconvenience that taking a later flight entailed. To do that, airlines would have to give their employees a substantial level of flexibility in determining compensation for bumped passengers.
Another frequent comment by passengers responding to the survey was that if they give up their seat, the full cost of their ticket should be refunded.
The GO Group LLC is the nation's largest airport transportation provider, offering shared rides, private vehicles, sedans, charters and tours, serving some 90 airports in North America, Mexico, the Caribbean and Europe and transporting more than 13 million passengers per year.
Contact: Dyana Flanigan
dkflanigan@flanigancom.com