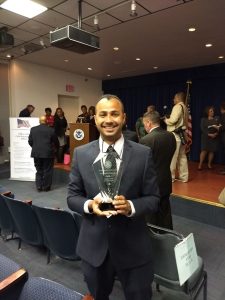 GO Group Member in Puerto Rico Receives Award for its Work with FEMA after Hurricanes
GO Group Member Puerto Rico Shuttles was one of 16 companies selected by the Department of Homeland Security (DHS) to receive the 2018 Small Business Achievement Award for its "remarkable work in providing FEMA with services during last year's hurricanes."
The company received its award at a ceremony held in Washington, D.C. on Tuesday, April 17, 2018.
Specifically, a few days after Hurricane Maria hit, FEMA was seeking a company to provide transportation for their first responders, which was difficult due to power outages, damaged and inaccessible roads and lack of cell signals.
GO Puerto Rico was able to find a signal and immediately responded. The company provided transportation for four months under extreme conditions.
FEMA was impressed by the company's ability to create logistics for 1000 passengers while roads were blocked, no cell phones to communicate with drivers and a fuel shortage.
According to the announcement provided by DHS, "Owner/operator Mr. Jose Torres continued to offer solutions to lessen costs while meeting, or exceeding, all mission requirements – a truly effective business concern that rose above the post-disaster conflict and delivered sterling performance in aiding the effort to help disaster survivors."
"The hurricanes left unimaginable devastation. We knew we had the right vehicles, logistical capabilities and experience to transport help where we could," says Torres.
"We are extremely proud of owner Jose Torres and his crew for their amazing work under such difficult conditions," says John McCarthy, president, The GO Group LLC. "We congratulate Jose and his entire team."
The GO Group LLC provides both shared-ride shuttles and private cars at more than 90 airports in the United States, Canada, Central America, the Caribbean and Europe. For a complete list, visit www.GoAirportShuttle.com. The company serves some 13 million passengers per year.
Contact: Dyana Flanigan
dkflanigan@flanigancom.com