Thinking about a mini vacation this fall, Vinnie recommends Cancun from October 30 to Novembe 2. Your visit will be timed just before the resort area's pricey high season and you'll be able to enjoy the festivities surrounding the Day of the Dead, Mexico's cooler, hipper version of Halloween.
The celebration, in which families remember relatives who have passed away and honor the continuity of life, includes the Hanal Pixan (a Mayan ritual featuring cuisine of the region), workshops, crafts, visual arts exhibitions, theater,dance and gala concerts.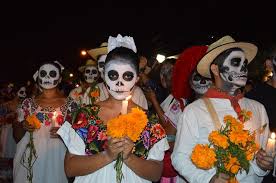 Many of the activities can be enjoyed at Xcaret Park, which is located outside of town on the Riviera Maya.
In town, colorful altars are set up all over Cancun to honor the dead. Each is decorated with flowers,
candles, a Christian cross, food offerings and traditional skulls made of sugar or white chocolate.
On the last day, children dress in Halloween costumes and go trick or treating much as their U.S. counterparts do on the 31st.
Vinnie enjoyed every minute of it, although he was a little freaked out at first by the adults who paint their faces to resemble skulls.
Viva La Muerte! Don't forget, when you fly to Cancun International (CUN), make your reservations for an airportshuttle at www.goairportshuttle.com, and say hello to Vinnie's friends at GO Cancun, who will be giving out sugar skulls to passengers all through the festival.