Did Santa not give you what you wanted for the holidays? Don't despair! These nine awesome products are sure to fulfill your travel gadget, gizmo and product wishes!
1. Sleeper Scarf
Whether you're looking for extra support or trying to catch some Z's on your flight, travel pillows can be a real pain. Avoid the nightmare of wrestling a bulky pillow in and out of your carry-on bag next time and just wear your pillow right onto the plane with Sleeper Scarf! This easy-to-inflate neck pillow is conveniently located in a soft rayon-spandex scarf which travelers can simply wear through the airport and inflate to their optimum firmness when they're ready to relax. Plus at 77 inches long, it's the perfect length to wrap around yourself for a little extra warmth on chilly planes or around your destination.
2. FinalStraw
Trying your best to go green but can't resist the allure of your favorite Frappuccino? Afraid of spilling your fountain drink down your shirt on your way to work? As much as we all know straws can hurt the environment, there are times we need them. Now with the FinalStraw there's no need for a moral dilemma when you want to sip your favorite beverage. This collapsible, metal straw has soft rubber tips to protect your teeth while drinking and comes with its own cleaning squeegee and carrying case that fits conveniently in a purse or pocket, or clips to your key ring, so you'll always have a straw with you on the go. This eco-friendly device comes in a variety of colors and makes the perfect gift for yourself, your loved ones, and of course sea turtles!
3. The Cocktail Box
There's no denying those tiny bottles of booze you get on an airplane or in your hotel mini-bar are cute. Unfortunately, they're also pretty useless unless you plan on throwing it back like a shot. When you want a quality cocktail you need mixers! Enter The Cocktail Box. The Cocktail Box Company specializes in providing bartender worthy mixers in a conveniently sized travel box so you can mix your favorite cocktails on the go with nothing more needed than the actual alcohol. Each kit comes with enough mixers to make six high quality cocktails anywhere you may need a drink. Makes an ideal gift for any frequent traveler or cocktail connoisseur, and comes in four varieties: Moscow Mule, Old Fashioned, Gin and Tonic, and Champaign Cocktail.
4. TUSHY Travel Bidet
Let's talk about toilet paper. Yes, it's hard to underestimate the comfort of a clean behind, but this handy little invention is also a major contributor to paper consumption and deforestation. Plus, it's a pain in the butt to carry around if you enjoy spending time in the great outdoors. Now TUSHY has created a solution that lets you stay clean while going green. Introducing the TUSHY Travel Bidet, an easy to carry, easy to use sprayer that helps you stay clean wherever you go. Simply fill the bottle with clean water, do your business, then spray away! Switching to a bidet greatly reduces the need for toilet paper and leaves skin feeling clean every time. The travel bidet comes in multiple colors, is collapsible, and includes a handy carabineer so it can clip conveniently to any travel bag.
5. Pipamoka Nomadic Coffee Maker
From the makers of Minipresso and Nanopresso travel espresso makers comes the newest way to make coffee on the go. Introducing Pipamoka: the world's first travel-mug/coffee maker to work entirely on vacuum pressure! Simply fill the mug with hot water, insert coffee grounds into the metal filter basket, drop the basket into the water, and twist the lid to brew a piping hot mug of your favorite coffee using just the mechanical power of your hands. Then just remove the basket and screw on the lid to keep your coffee hot for hours in the mug. The eco-friendly and convenient device allows any coffee addict to get their caffeine fix anywhere they can get hot water. Pre-orders are now being taken at https://www.wacaco.com/pages/pipamoka
and will be delivered by February 2020.
6. Pashion Convertible High Heels
Every woman-on-the-go knows the age-old dilemma: do I sacrifice comfort for style and wear my high heels? We all want that extra few inches of height to make ourselves sexier at a party or more impressive in a presentation, but nobody wants to torture their feet, and carrying a spare pair of shoes isn't always an option. These problems are now a thing of the past with Pashion convertible heels! These patent leather flats are equipped with a running-shoe like cushion and a flexible bottom to not only provide a comfortable walking experience, but accommodate a patented removable heel. Simply remove the flat's capped heel, click the removable arch support into place and screw on a removable 3 or 4 inch heel to transform from flats to heels in a matter of minutes. Each pairs comes with a handy travel bag to discreetly slide your discarded heels into any purse as well as the freedom to effortlessly switch
between function and fashion in minutes.
7. Scout Hidden Camera Finder
We all love the convenience and cost-savings of Airbnbs, but one too many horror stories of invaded privacy can make it hard to rest easy in your rented rooms. Hidden Camera Finder from Spy Guy, you can be sure that no one is watching or recording you when you turn in for the day. The device uses infrared light to reflect off the lenses of hidden cameras in common devices such as clocks and lamps. Simply hold down the button and look through the lens to detect any spy batteries, so you never have to fear being without it in your travels, and comes with a practice camera lens so you can perfect your search technique before it matters and you're on the go.
8. Playmaker Satellite Antenna
Do you enjoy being outdoors, but don't always want to "get away from it all"? Do you want to catch the big game or let the kids distract themselves with TV while you're out camping? If the answer is yes, then you'll love the Playmaker Satellite Antenna from DISH. The Playmaker will bring in crystal clear
satellite TV reception as long as you can point it at the southern sky. Whether you're camping, RV-ing, or tailgating there you can still get quality television reception as long as you have power. The Playmaker antenna does not require a DISH subscription at home and comes with no long-term contracts so
you can pay as you go, wherever you go.
9. Nomadik Travel Subscription Box
Got an avid traveler on your holiday shopping list? Not sure what other gear they could possibly need? Then why not let Nomadik do the work? Nomadik is a subscription box that can be sent monthly to you or a friend with a selection of high quality travel gear tailored to the recipients' personal interests. Included gear includes packs and pouches, camping tools, snack mixes, and other handy accessories like water bottles and flashlights from a variety of respected brands so any traveler can experience new products and companies and decide what they like. Whether you choose a 1, 6, or 12 month
package you'll be sure to save on a bundle of gear to improve any adventure!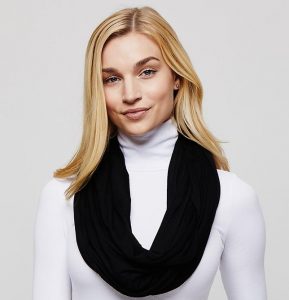 Inflatable Sleeper Scarf has many uses.