By Amy Okafor
There's something magical and appealing about vivid flowers, blossoming trees, and exotic plants. Nature is on display and readily accessible at arboretums and botanical gardens throughout the U.S., and its beauty beckons. Here are the 10 most glamorous gardens in the U.S. to check out.
1. Morris Arboretum
Journey back to Victorian times at the Morris Arboretum in Philadelphia. It began in 1887 as a summer home for one of the city's wealthiest families, the Morrises, who made their fortune in iron. Brother and sister John and Lydia Morris traveled the world and brought back plants from Europe and Asia. In 1932, the family home became the Morris Arboretum and joined the University of Pennsylvania system. The garden still reflects the era in which it was created and includes thousands of rare and wooded plants like maples, magnolias, and beech trees.
Flying into Philadelphia? GO offers shared ride and private airport transportation at Philadelphia International Airport.
2. Sarah P. Duke Gardens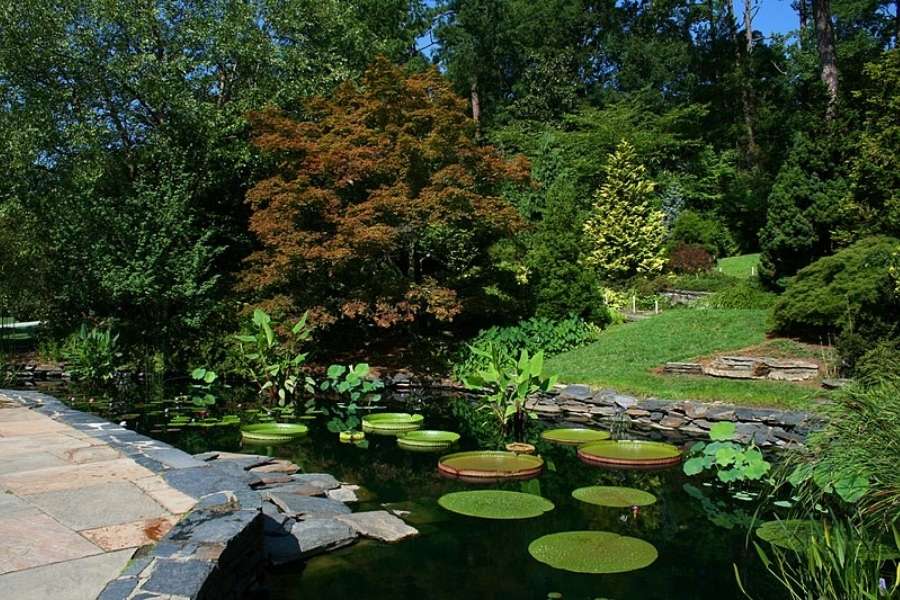 Another of the most glamorous gardens is on the campus of Duke University in Durham, N.C. The Sarah P. Duke Gardens or, simply, Duke Gardens are famous for their distinctive areas. One standout is the W. L. Culberson Asiatic Arboretum. You can stroll among Japanese maples, ginger lilies, and cherry trees and even take part in a Japanese Tea Gathering. You'll find four separate areas to visit, all with their own vivid and unique touches. There's the Asiatic Arboretum, the original Historic Gardens, the H.L. Blomquist Garden of Native Plants, and the Doris Duke Center Gardens.
Planning a visit to North Carolina?  We offer private airport transportation at RDU.
3. New York Botanical Garden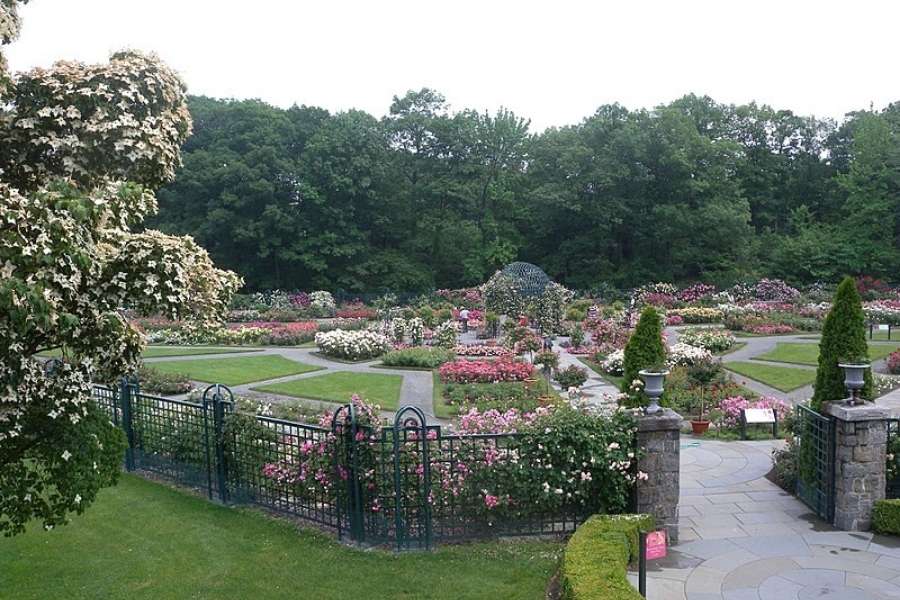 Water lilies and lotus of brilliant pink, purple, and yellow add to the allure of the New York Botanical Garden. This public garden sits on picturesque terrain, with the Bronx River, a rock-cut gorge, and 50 acres of old-growth forest in the northern half of Bronx Park in New York City. The New York Botanical Garden includes 50 specialty gardens and a collection of more than one million plants. The Peggy Rockefeller Rose Garden is perhaps the most appealing, known as one of the world's most sustainable rose gardens.
If you're flying into New York City to see the gardens and tour the Big Apple, we provide JFK airport transportation, as well as shared ride and private car service at LaGuardia and Newark.
4. Dallas Arboretum and Botanical Garden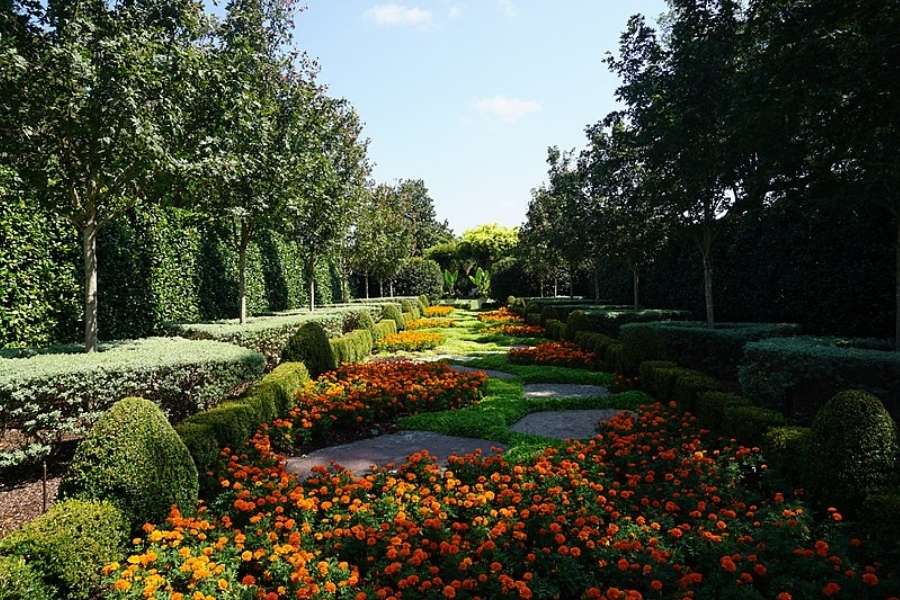 Often noted as one of the world's most beautiful oases, you'll find breathtaking views on the 66 acres of the Dallas Arboretum and Botanical Garden. Its individual gardens include large, sweeping beds of brilliant seasonal flowers. You'll also find a stone wall mirrored by roses overlooking White Rock Lake and a natural tunnel created by crepe myrtle trees. Nearly one million visitors come through the gates of the Dallas Arboretum each year. The gardens are among the younger estates on our list, opening to the public in 1984, with considerable room for growth. Reserve Dallas airport transportation at DFW or Love Field through GO in advance and we can take you to downtown Dallas, the Arboretum, and more!
5. Chicago Botanic Garden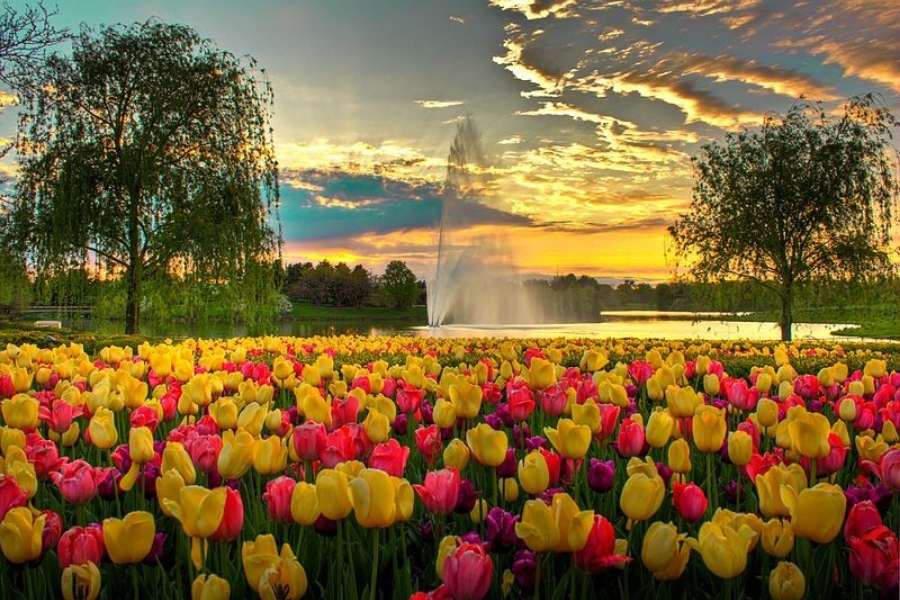 Talk about glamour! At the Chicago Botanic Garden, you can linger in the renowned Bonsai Collection with more than 200 specimens. Note the cinnamon scent of the Asian star jasmine. This unique garden sits on 45 acres on the islands in the Cook County Forest Preserves. It boasts one of the largest memberships of any U.S. botanic garden and hosts more than 1 million visitors each year. With 27 gardens and four natural areas, there's something for everyone. Among the more unusual attractions? A dwarf conifer garden, a waterfall garden, and a sensory garden.

Planning a visit to the Windy City to see the flowers, stroll Millennium Park or visit the Downtown Loop, book your airport transfers through GO! We provide low cost ride choices at O'Hare and Midway airports.
6. Atlanta Botanical Gardens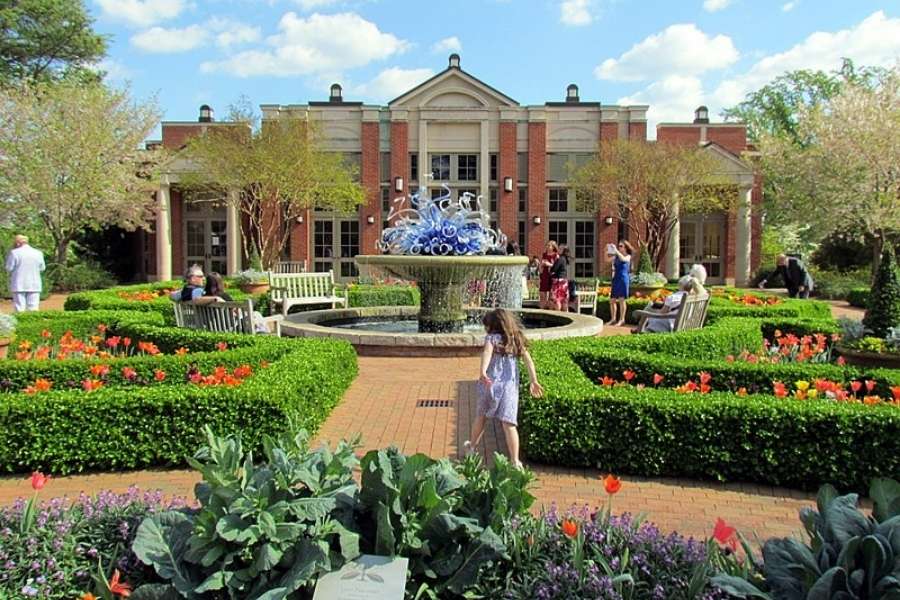 The Atlanta Botanical Gardens are a favorite of locals and visitors alike. Stroll 40 feet in the air on the Kendeda Canopy Walk and get a bird's-eye look at Storz Forest below, full of oaks, hickories, and tulip poplars. Then meander over to the home of one of the world's most impressive collections of orchids. The Fuqua Orchid Center displays thousands of brilliant orchids in all shapes, shades, sizes, and scents.
Private car service can take you to the Atlanta Botanical Gardens so that you avoid traffic and parking, but you can also reserve a ride to and from Hartsfield-Jackson International Airport.
7. Ladew Gardens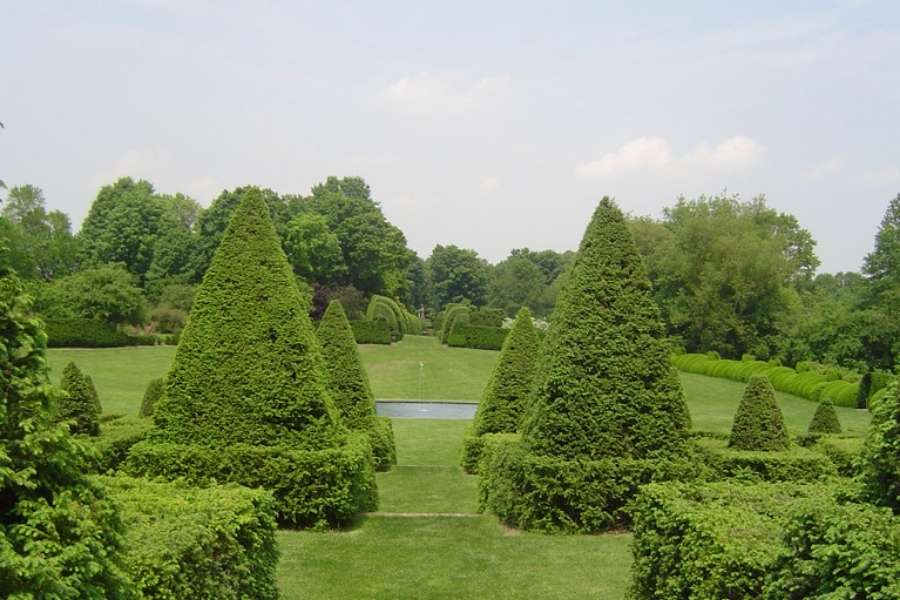 You won't find Edward Scissorhands at Ladew Gardens, but you will find 22 acres of astonishing topiary! Ladew is considered one of the top 10 topiary gardens in the world, and it's just outside Baltimore! Follow the paths through more than 100 topiary forms, including a fox hunt scene, an arrow piercing a heart, seahorses, and a Buddha. Bring your lunch and enjoy a picnic on the grounds. Tour the 18th century Manor House and enjoy founder Harvey Ladew's collection of English art and equestrian-themed paintings. And stop in the Butterfly House to learn about the habitat and life-cycles of native butterflies and caterpillars. You may even be inspired to create a topiary in your own yard. It's easier than you think!
8. Desert Botanical Garden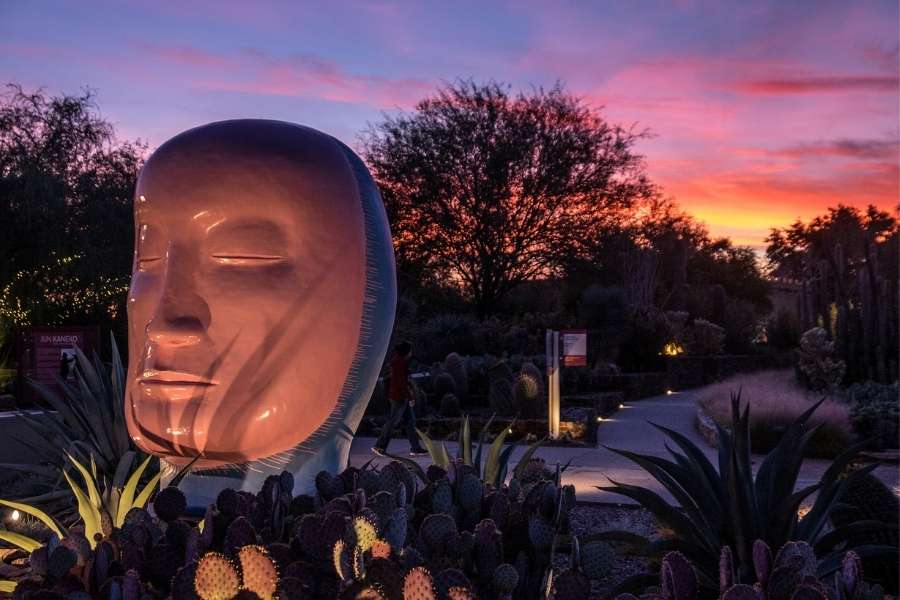 Source: flickr.com/photos/iip-photo-archive/30627791687
The breathtaking beauty of the desert Southwest is on display in Phoenix's Desert Botanical Garden. Stroll the Sonoran Desert Nature Loop Trail for a perfect view of the mountains that surround the city. Experience an explosion of color with blooming wildflowers and flowering cactus and see three species of hummingbirds on the Desert Wildflower Loop Trail. You'll also learn how Sonoran Desert plants were used by native Americans for food, medicine, and building materials.
For a stress free travel experience, schedule your airport transportation in advance at Phoenix International Airport and let our professional drivers take you to your destination swiftly and safely.
9. Fairchild Tropical Botanical Garden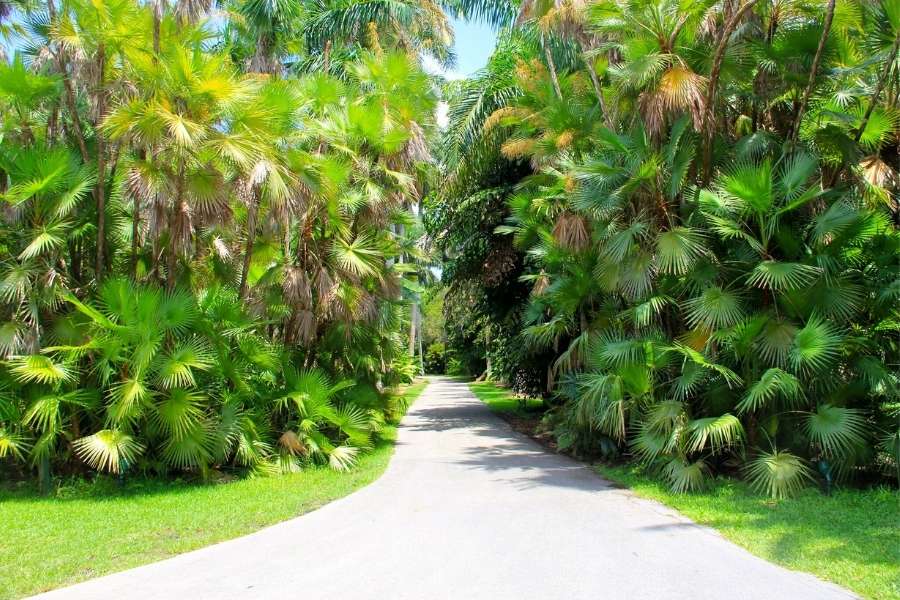 Source: juggernautco
Escape to a tropical paradise with a trip to the Fairchild Tropical Botanical Garden in Coral Gables, Florida. The grounds are heavy on glamour and individuality. Explore the only tropical rainforest in the continental U.S., a 2-acre exhibit brimming with streams and waterfalls, and hundreds of orchids, palms, ferns, and other rainforest plants. Enjoy the beauty of winged insects in the South Florida Butterfly Garden. Fairchild also features 11 lakes and seven pools, including a sunken garden pool and a waterfall.
Flying into Fort Lauderdale or Miami for visit to South Florida?  Schedule your airport ride through GO. Chauffeur service and economy private rides are available.
10. San Diego Balboa Park Gardens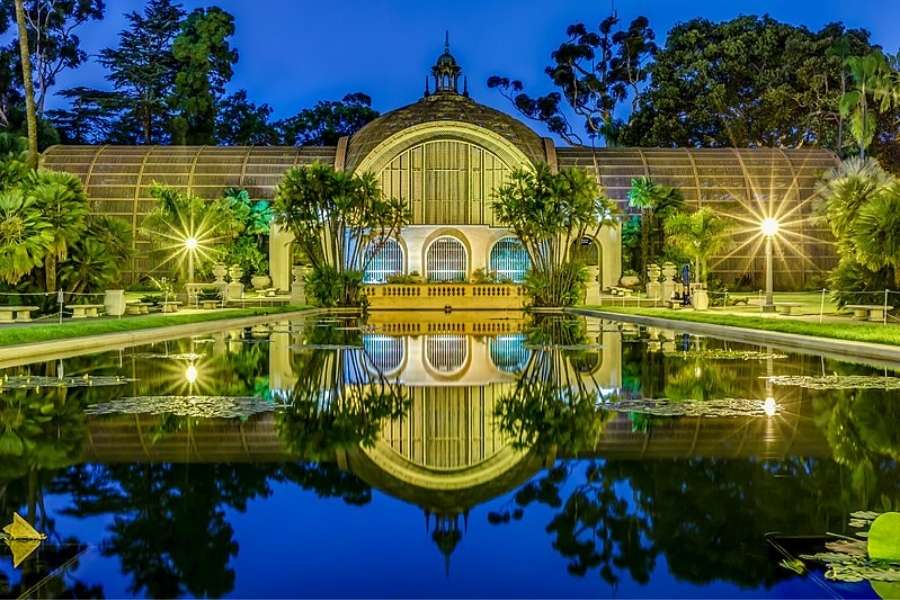 No matter your definition of glamour, San Diego Balboa Park Gardens has something for everyone. The Botanical Building and Lily Pond is a must-see destination in the city, with ferns, orchids, and other tropical plants. The Desert Garden features succulents and drought-resistant plants from around the world. A sunken stone grotto that was once a nudist colony is now a butterfly garden. A koi pond, stone arrangements, and bright blossoms mark the Japanese Friendship Garden, an expression of goodwill between San Diego and its sister city, Yokohama. If these gardens whet your interest in seeing more treasures of the West Coast, head north out of San Diego and follow the roads along the Pacific Coast all the way to Seattle!
The pandemic has changed the way we travel. Before heading out, check the website of your airline and the gardens for mask and vaccination policies. Since the gardens are outdoors, you'll find fewer restrictions than you'll see at indoor venues.  And remember, if you need airport transportation at any of these destinations or other locations throughout the United States, GO with us! We've got your ride covered.
Amy Okafor loves a good landscape and garden, and seeks inspiration for the one in her backyard by visiting every one she can in her travels. She writes about gardening and landscaping for a variety of local and national publications.